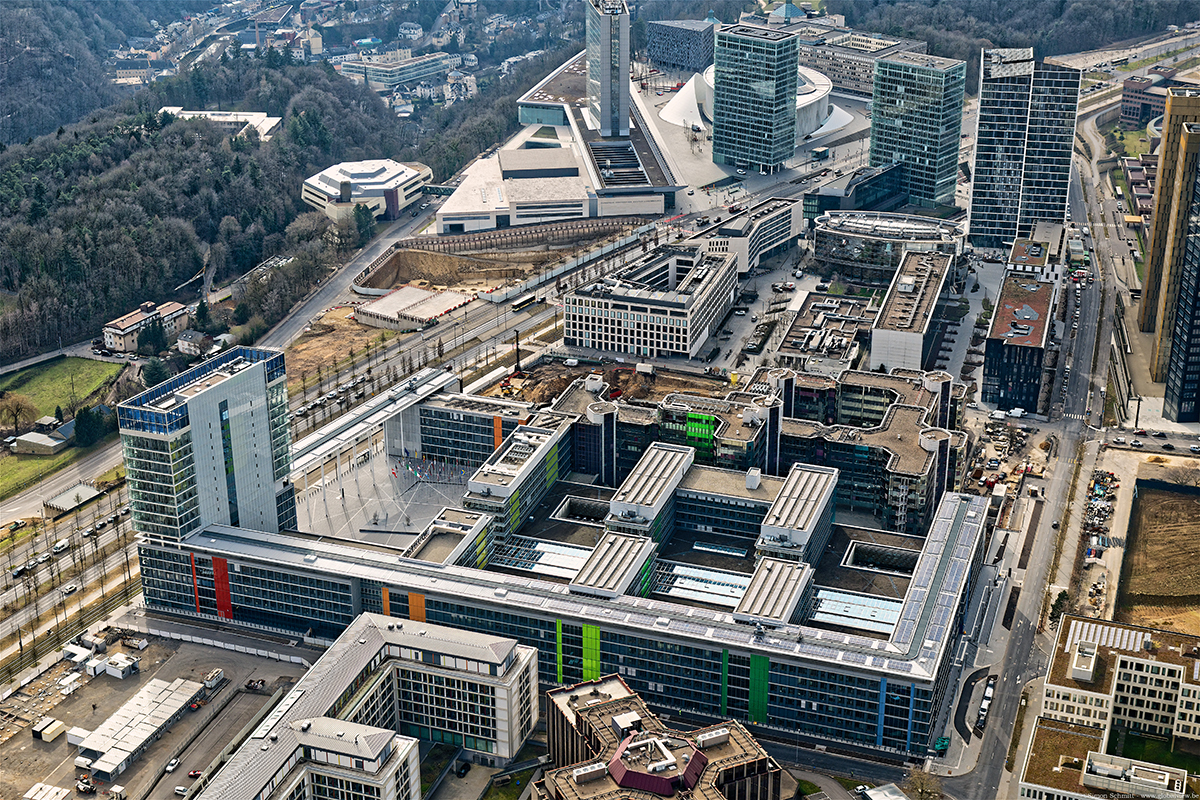 Aerial view of the Adenauer building © European Union 2021 - European Parliament
The Archives provide researchers and all interested citizens with documents and information on the history and activities of the European Parliament. We will help you obtain the necessary information by email, by post, by telephone or on our premises in Luxembourg. We can offer various levels of assistance, from carrying out simple searches for a limited number of documents to performing more advanced research such as lists of documents on several topics, an MEP's activity, etc.
Contact us
Address
Archives of the European Parliament
Konrad Adenauer Building
2, rue Alcide De Gasperi
1615 Luxembourg
Email
Historical-Archives@europarl.europa.eu
Phone
+352 4300 27168
Useful links
The Historical Archives of the European Union
The Historical Archives of the European Union (HAEU) are the official archives for the historical documents of the Institutions of the European Union, and are home to more than 160 private archival deposits from eminent European politicians, movements and associations, as well as a collection of documents relating to European integration from National Archives and Ministries of Foreign Affairs Archives.
European Parliament Audiovisual Services - Media Library
All audiovisual content produced in the European Parliament is stored in the precious Media Library archives, managed by the Audiovisual Services Unit, containing thousands of hours' worth of video footage, audio recordings and photos. These are, currently being digitised, moving the Unit towards becoming a 'tapeless' environment.
The Legislative Observatory database is a tool to monitor the EU's institutional decision-making process. Its particular focus is on the European Parliament's role. It contains records for all procedures that have been submitted to the European Parliament since the beginning of the fourth parliamentary term in July 1994.
European Parliament Public Register of Documents
The European Parliament's public register website contains references to documents produced or received by the institution since 3 December 2001. The vast majority of these documents can be directly consulted and downloaded from the website, free of charge.
Here you can find information on the plenary sessions and relevant documents including agendas, texts, votes and minutes as well as debates and videos.
European Parliament Committees
Here you can find meeting documents such as agendas, minutes, reports and opinions, supporting analyses as well as information on events such as hearings, workshops and missions of the European Parliament's committees.
European Parliament Delegations
Here you can find information on the responsibilities, activities and meetings of the European Parliament's delegations including links to relevant parliamentary resolutions and other background documents.